One of the first things I did when I bought my first vacation rental is advertise and market it for free on Facebook to boost profit. Here is what I learned, so you can easily follow these steps to do the same right now:
Have a personal Facebook account
Create a page for your vacation rental
Promote the FB page to get likes and follows
Keep engaging your audience with new engaging content
Be active on Facebook
Do you want to be able to reach 2.5 Billion Facebook users? Just follow these steps one by one and make sure more people know about your vacation property!
Have a personal Facebook account
This is where it all starts. You need a personal account to be able to make a page for your vacation rental. Don´t have an account yet? It´s super easy and will take you less than 2 minutes: Just go to Facebook.com and create a new account.
Welcome to Facebook! Even though it is not absolutely necessary to build up your personal profile and page, I think you should.
Because your (Facebook) friends are more likely to be the first to like your (future) Vacation Rental Page. So build your profile, upload your personal picture and start inviting your friends to join you on your page.
You´ll see that the amount of friends will grow rapidly!
Now that you are on Facebook, give us a Follow!
Create a Facebook page for your Vacation Rental
Now that you have loads of friends, it is time to get back to business. It´s time to build a page for your vacation home. Once you are logged into Facebook, look at the upper right and click on ´Create´ and choose ´Page´: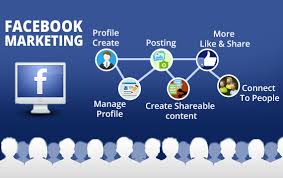 When you have your own company that rents out your property, you can select ´Business or Brand´, but I am guessing you just want to promote a single property. In that case you choose: ´Community or Public figure´. This is where the fun starts. Fill in the name of your property and try to make it as appealing and keyword rich as possible.
Appealing so that people get a warm and fuzzy feeling when they see a post of yours. Think ´Romantic Barcelona Apartment near City Center´.
Why keyword rich? Because Facebook processes over 2 Billion searches per day! Yes, people use Facebook like they use Google. Some people even never leave Facebook! The good news is that there are fewer Facebook pages than webpages on the Internet. That means: less competition. So whenever a person searches for ´Barcelona Apartment´, your page will show. Try that on Google without paying big bucks!
Facebook will ask you to upload a profile picture (Make sure it is of you! People like to see other people) and a cover photo (excellent opportunity to showcase your Vacation Rental).
In the ´Settings´ you can change your personal preferences and even add your website. This can be your own website or the URL of the property wherever it is listed (like the Airbnb page where potential guests can actualy book)
Great! Your page is all set up! It told you this would be easy. But……this is just the first step. Immediately Facebook asks you to invite your friends. Do not do that just now. Plenty of time to do that later. Now is the time to find out how the page works and post some content to start with.
Do make sure that you get a custom URL, so that your page is not ´facebook.com/page/7657236972´, but ´facebook.com/appartment-barcelona´.
Once you feel your page is ready for serious traffic, start inviting your friends to like the page. If you have had guests in your vacation property before, do not forget to invite them as well via Facebook or email.
Promote the Vacation Rental FB page to get likes and follows
You are officially in business, congrats! Now you have to get as many people as possible to like and follow your page.
Add your Facebook page on your own website
Increase your number of FB Friends for your personal account so you can invite them
Use your FB page in your email signature
Put the FB page on your business card
Ask everybody at work to like the page
Use the page account to add valuable insights to groups and communities
Ask your guests to leave a review on your FB page
Keep going!
Keep engaging your audience with new content
This is not a ´Build a Facebook page and the money will come pouring in´. If you do not put out any content on the page, nothing will happen.
You can post frequently, but do not spam your followers, or they will likely ´unfollow´ your page. Whenever you have something interesting to say: just share it with your ´Tribe´.
Some Tips for posting on your Vacation Rental FB Page:
Facebook scrollers love pictures! Make sure there is a picture in every post. A stunning ´scroll stopping´ picture will make you stand out. Want to make better pictures of your property? Click here.
Social media is FAST. Use short posts, do not copy the encyclopaedia.
Add a ´Call to Action´. Make sure you tell the reader what to do. ´Like this post´, ´share this post´, ´let me know your answer in the comments´ and ´Click this Link to book my Vacation property´!
Make sure that the reader does not need to click ´read more´in your post to see the Call to action
Ask for engagement. I´ll get back to that. It is crucial.
Be positive in your communication
When talking about your property, describe the ´benefits´ more than the ´features´
Post an album of pictures
Post a short video (under 1 minute)
Go Live on Facebook with a short video, yes, i know it is scary
Create Facebook Stories (24 hour highlights)
Show a ´behind the scenes´ when you are preparing your property with your guests
Share reviews of your property
Tell something nice about the surroundings of your property and describe your property
Use hashtags and tag people
Reply to all comments
Don´t be afraid to show yourself!
Be active on Facebook, but……
The more active you are on Facebook, the more benefit you will see from your new marketing channel. It just put somewhat more control over your bookings, income and profit in your hands.
It´s Free, but there is a serious limitation to promoting your vacation home on Facebook for Free. Since 2016 Facebook has changed their algorithm. Before 2016, whenever you posted something on your page, all of your followers would automatically see it. All of them.
Right now? About 10%. Yes, that low. As soon as you post something, FB will measure the engagement with just a few of your followers. If that engagement is less than ´Awesome´, FB will not show it to most of your followers. Bummer, right? So the quality of your posts and the engagement that follows is a enormously important. But you will hardly ever reach all of your followers.
It is kind of crazy when you think about it, right? You do your best to get a following on Facebook and put in all the work. You might even pay Facebook to advertise your page to people who might like it (so they can follow your vacation rental page). And then: You need to pay, just to reach your own audience.
That reminds me that you should never be too reliant on any 1 source of traffic (like Facebook), because they can change their algorithm easily and turn all your work into dust. They have done it with businesses before and will do so again.
It is possible however, but that is not Free. It is called Facebook advertising and it is the way Facebook makes money. Extremely effective, but not Free.
Facebook will give priority (show to more people) if you upload content that will keep the viewer on Facebook. That is why posting a link to an outside source (like your booking website) will probably not been shown to a lot of people. FB wants people to stay on FB. That is how they make money 😉
Conclusion About Marketing For Free On Facebook
Now that you know how to make a Facebook page for your vacation property, there is no stopping you! Even though the reach is limited if you are promoting your home for free, you should certainly do so. It´s fun to do and can be very cost efficient. Make sure that you Set Up An Instagram Page for your property as well.
More tips on how to advertise your vacation rental on Social Media? Have a look here!
Who knows……you might even want tot give Facebook Paid Advertising a try some day!
Do what you can and all you can and get your Vacation Rental to the coveted ´Fully Booked´– Status and maximize your income!
Want to find out more ways to advertise your vacation rental? Click here. Or where to list your vacation home?
Looking for other ways to rent out and not pay a commission? Click here.
Related questions:
Can I promote my vacation rental for free in Instagram?
You can promote your vacation rental for free on Instagram, but the reach will be limited. There are several options like using hashtags and tagging to increase your reach
How do I set up a Facebook page for my vacation rental?
To set up a Facebook page for your vacation rental:
Make sure you personally have a Facebook account
Make a new page