If there is one thing that you can easily do to increase the bookings for your vacation rental, it is upgrading your pictures. Only the best pictures of your vacation rental will do. You will not believe the impact it has on your nights booked, your vacation rental income and of course your profit. You can easily double your income. Let me share some tips that you can implement right now on how to do it!
We will be covering:
8 Tips For Making Best Pictures To Increase Your Vacation Rental Income:
Look Through The Eyes Of The Guest
Make The Picture, Don´t Take The Picture
Let there be light!
Pick a low oblique angle
Show everything
Show The Surroundings
Make A Video or Virtual Tour
DIY or hire a professional?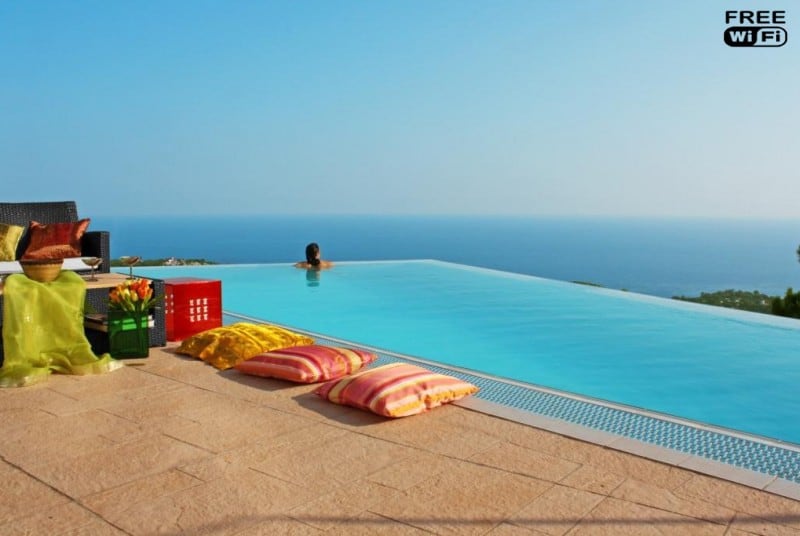 Look Through The Eyes Of the Guest
This step is often overlooked by homeowners, but it is essential. It seems to them that taking pictures is just a part of getting their vacation rental property on a website and that is it. But did you know that this is possible the most important factor in getting your home booked?
With our pictures we try to convince people (potential guests), who do not know or trust us, to book and pay in advance for a place to stay before ever having been there themselves.
That´s is still a huge step. Even in this ´we are used to buy online´- world. It´s only natural that our potential guests want to feel secure that they are making the right decision. It´s even worse when your potential guest has the responsibility of booking a property for a larger group or a special event like a wedding location.
So it is important that we visually answer all the questions that they might have. Questions like:
´Can we all eat comfortably at one table outside?´
´Are there enough closets for our wardrobe?´
´Can the kids safely play in the pool?´
´Will we have privacy in the garden?´
Just think: ´If I would have never been here before, what would I like to see?´
´Make The Picture, Don´t Take The Picture´
Ansel Adams said it best with this quote.
We call it ´staging´ and it is crucial. Always, always, always stage your pictures.
So there is a difference between ´staging´ and ´lying´. Of course you should not take pictures with a 100 inch tv screen, only to replace it with a 42 inch screen before the guests arrive. That is a sure way to destroy your guest experience, your reviews and ultimately your revenue.
Highlight all you want to show and hide all that you don´t want seen. There is a whole ´beauty and cosmetics market´ that thrives on that. It´s called marketing.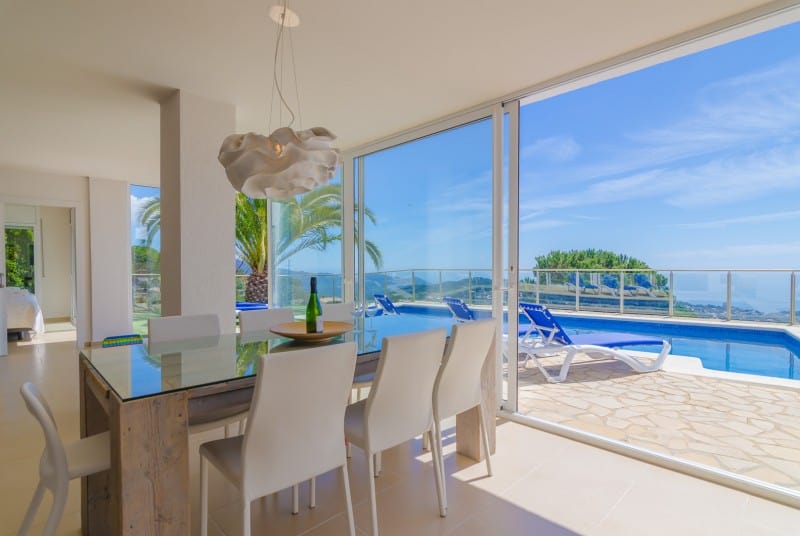 How To Stage Your Vacation Rental for Pictures
Take away all your personal belongings like your wedding and family pictures. Guest would like to see the location as their own and not be reminded of the people that usually live there.
That also goes for your clothes, hide them in the closets.
Make sure the place is clean. It can really show in pictures when a property is not clean
Make sure there are no people of animals in the pictures. Sometimes owners send us their own pictures with the dog walking around the living room.
Make the beds like you see in hotels, fluff up the pillows, straighten the decorations. Even though we make appointments with owners for photoshoots for our properties in Spain, and we confirm the property is ready for pictures, you won´t believe the mess we have seen.
In the bathrooms, less is most of the times better. Don´t show toothbrushes. Make sure that what is seen in the pictures, adds to the confidence of the potential guest, not detracts.
Make sure the tv is off and remotes are arranged.
Open all shutters and curtains.
Make sure the pool is clean and spotless
Do anything that makes it easier for the potential guest to visualise their perfect stay: a set diner table, towels at the pool, a book and a coffee mug next to the lounge chair, a lit fireplace
Tip: Right after you have taken your pictures, look at them on a larger screen and evaluate them. Improve right away if needed.
Let There Be Light!
We all like sunlight! We even need it! We have learned to only make pictures on sunny days and even at times that the sun was most advantageous for what we want to show.
There is a big difference between pictures of a pool and terrace in the shadows or in the full sun.
And even though the sunlight exposure will be less of a factor inside, make sure that there is ample sunlight. In addition to the sunlight, turn on all the lights in each room as well.
Some properties show really well at night, but we have experienced that these pictures should be presented only at the end of a series. If you use them as a main picture, your click through rate will be seriously lower, no matter how beautiful the picture is.
Think of it as the opposite of a horror movie. If a horror movie was all bright and well lit up….would it still be scary. No, of course not. And that is what we want for our potential guests: Not to be scared.
Pick A Low Oblique Angle
Take pictures when kneeling. It will look more spacious. Just give it a try and you´ll see. Curl yourself up into a corner of a room and see what shots you can make.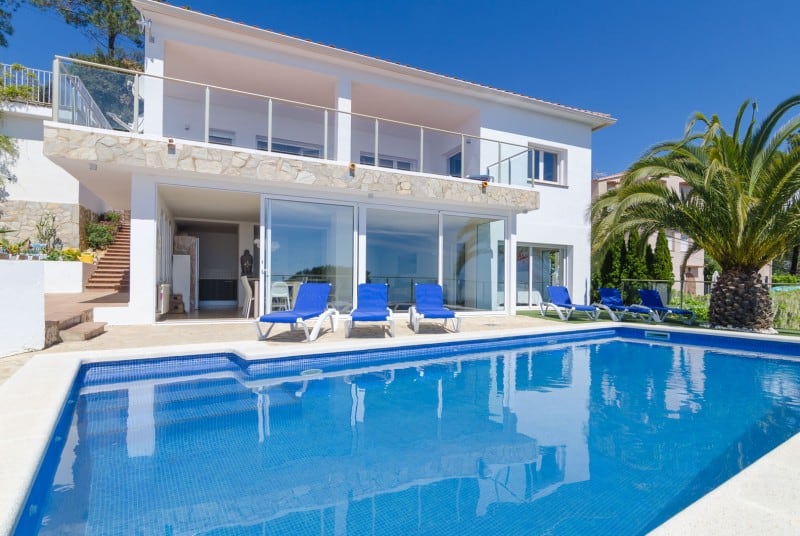 We have this technique of getting very low at the corner of a swimming pool and take a picture of the pool in combination with the actual villa: Money Shot every time!
Show Everything
On most listing sites you can show up to 50 pictures and you should.
You don´t know what it is that appeals most to your potential guest. Is it the bathroom? The bedrooms? The outside area? Really, you don´t know.
Just look at every picture as an opportunity to lessen the fear that people have. The more they see, the more confident they will feel in booking your property.
Once they have seen all your pictures, they will have invested time in checking out your vacation home. That will also persuade them to book yours.
Show The Surroundings
Chances are that guests are not staying at your place, just because of your place. Sorry to hurt your feelings, but probably there was something else that attracted them to visit the area in the first place. Most of the times it is not difficult to find out what that is.
Villa with private pool near the beach? Include some pictures of the beach and coastline. Just make sure that you mention in the description that it is not the actual view, but a picture of the surroundings.
Apartment in center of Barcelona? Show some pictures of the Sagrada Familia and shopping street Ramblas.
Remind them why they are visiting in the first place.
Make A Video Or Virtual Tour
Even when you have stunning pictures, it can be difficult for a potential guest to visualise the layout of your property. One way to show this is a floorplan.
But who wants to look at an ugly floor plan, when it is so easy to make videos nowadays. Want to make the experience even more real? Include a virtual tour of the property. Check out A Matterport Virtual Tour here.
Now there is no reason for your guests not to book.
DIY Or Hire A Professional?
It´s true, some people are not so good taking pictures. Or just not have a proper camera. And to be honest: Iphone pictures can go a long way, but they are not the same quality as ones made with a decent camera.
If you have read all the tips above and have done your research and still feel that you should get some help: Don´t hesitate to do so.
Perfect picture taking is an art. And the return on your investment of a couple of 100 of Dollars is just astounding.
Conclusion
Both Real Estate Agents and Vacation Rental Experts are investing heavily in improving the pictures of their properties, because they know it will give them the best bang for their buck.
If there is just 1 thing you can focus on……it is improving your pictures.
Better pictures = More cash!
Have fun with it!
More Tips for renting out your Vacation Rental? Click here!