The choice of place to stay is one of the most crucial decisions travellers make while planning a vacation. Guests who prefer to stay in a rental property want all the comfort that a home can provide, including a well-equipped kitchen.
At a very minimal, your rental home should provide essential kitchen tools to help renters cook their meals. That is one of the things that makes a vacation rental attractive compared to a hotel stay.
Kitchen supplies can be everything from large appliances to small devices. Some of them include a refrigerator, stove, oven, pots, toasters, knives, dishwasher, coffee maker, microwave, and other cooking utensils.
Top Things A Vacation Rental Kitchen Should Have
Refrigerator: A refrigerator is needed in everyone's daily life and perhaps the most critical piece of kitchen equipment. This is why you should invest in a quality and eco-friendly refrigerant gas that helps the fridge get cool faster. Its purpose is to keep perishable food cold and to hamper the activity of bacteria. Sometimes, renters prefer to stock the house with food items that will last them a couple of days.
You might need 2, depending on the amount of guests that your property can accommodate. If you have a large outside area, maybe even with a pool, your guest will appreciate an extra fridge near the pool or bbq area.
Dishwasher: Dishwasher washes a load of dishes and eliminates the problem of stacking dishes in the kitchen. A dishwasher is necessary if your rental home is designed to accommodate a large number of people. Let´s be honest…..who wants to do the dishes on their vacation? Nobody!
A countertop dishwasher is highly recommended if your vacation rental is small because it's most adaptable. It is very considerate to leave at least the first tablets for the dishwasher in the house.
Stove: A stove is a kitchen machine that your guests cannot do without. It shows that your rental home is not complete without a stove. Almost all foods, though, are not all prepared with either electric or gas stovetops. It depends on your preference, actually, but the gas stove is used in most rental homes. Probably, it may be because it's the most convenient stove system available that can provide a real flame effect to renters when cooking.
And again, it doesn't increase the light bill though it may not be as economical as it seems. After all, it needs the gas plug to work. Overall, a gas stove is good for renters because it's easier to control the degree of heat. If you want your guests to enjoy true convenience, build cabinets, or modify existing cabinetry to accommodate your stove.
Oven: A standard oven is a typical appliance that your guest may need for most baking and roasting tasks. It fits well when your guest needs to bake bread, cake, pastry, and pizza. And sometimes, a recipe may require both the oven and the stove for the same dish. Luckily, most stovetops come with an oven. By that, you may not need to spend extra money on oven except you see it deem fit to get a separate oven. So, before you get a stove for your rental home, ensure you choose wisely.
Toaster: The primary use of a toaster is to "toast" or "grill." They are usually about the size of a "bread box." The good news is it's quite inexpensive, so relax, and you don't need to spend that much. Typically, your guest can worry less about toasting bread and pizza. And of course, hosting their family and friends with a well-grilled barbecue shouldn't be a problem. It is a much quicker and more comfortable alternative than a full-sized oven to heat food, especially in warmer months.
Blender: A blender is an essential kitchen gadget. It's good in the kitchen because it allows your guests to make smoothies, pulsing vegetables, and sauces. It works great and super-fast. For the record, it consumes less energy and very convenient to handle. With a blender, you have made life almost delightful for your guests as they enjoy cocktails and fruit purees.
What would you do without it?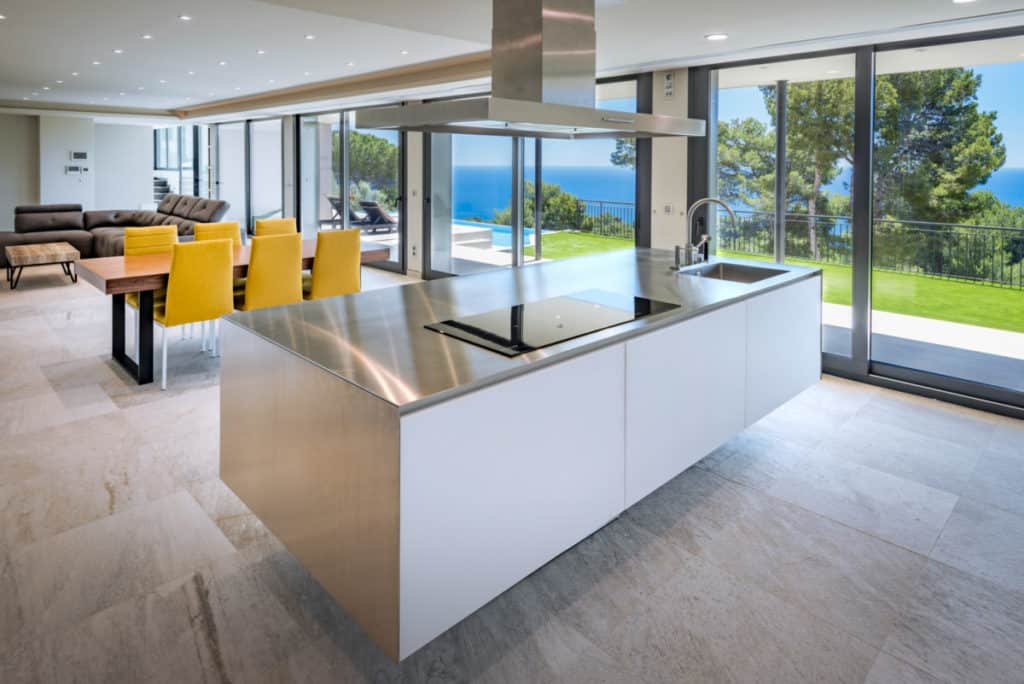 Microwaves: Microwave ovens can solve several kitchens or food-related problems. Your guests can conveniently boil water, thaw frozen food items, and reheat leftover dinners. They will be able to heat a wide range of food evenly.
Pot and pan: A kitchen is not fit to be called "kitchen" without cooking pots and pans. When you provide your rental home with cookware, it makes cooking easier and effective for your guests. High-quality stainless steel is the right choice. It distributes heat and cleans up easily when washed.
Carbon steel pots and pans are a lot like cast iron, so that's another good option you should consider. This is because they develop a non-stick surface and gives the pan excellent heating characteristics. Though stainless doesn't conduct heat very well, you can get stainless clad over copper or aluminum core. Most importantly, you must avoid the thin metal pans because it burns foods quickly.
Tea kettle or Coffee maker: This is one of the necessities your rental home should possess. As you know, almost everyone drinks coffee, isn't it? This means your guests would need something to brew their coffee however they like. Whether hot or lukewarm, they can enjoy home-brewed coffee right after they get out of bed with a functioning coffee maker. However, a tea kettle can be an alternative if it only involves heating water.
Quality knives: One of the most important things a kitchen should have is a good knife. It is essential not only for good and fast cooking but for safety's sake as well. One good knife is okay. It's also good practice to have two or more in stock, especially if your rental home is designed to accommodate more than one person.
By that, your guest will be able to carry out all cutting activities with ease. It will help them chop vegetables, cut meats, and slice food into bite-size pieces when eating.
Spatula and Spoon: With spatula and spoon in your rental home, you have almost everything your guest need for basic cooking. When cooking, your guests would need these tools at hand to mix and stir food. You may consider a wooden spoon because it is multi-functional. It can be used in boiling, frying, and stirring. Other good additions are solid stainless steel spoon, the wooden spatula that fits the hand, spoons with holes, and a silicone scraper.
Other cooking utensils: Several tools are essential in the kitchen. They are:
wooden cutting board
Pot holder
Can opener
Scraper
Dish towels
Tongs
Flat wear
Baking pan
Whisk.
These are not exhaustive lists but demonstrate basic concepts of cooking and serving utensils. When you prepare a good meal, the next thing is to serve on a plate for consumption, right? So, ensure to provide serving bowls or plates and cutleries. With essential cooking tools, cooking becomes more fun for your guests.
Some Other Things You Should Consider
If your rental home is meant to accommodate both the old and young, consider if your kitchen is family-friendly. As you're preparing for the aged, also put children into consideration. You can provide for high stool to sit in the kitchen. And instead of breakable glassware, plastics are suitable for little kids.
Does your kitchen have a good cabinet? Some of the appliances like dishwasher, refrigerator, and oven are usually cabinet in-built. Aside from that, you can store most tools in the kitchen drawers so that your kitchen will be space effective. Get someone more creative to give you the best cabinet design even if your rental home is small.
You must not provide all the varieties of spices but some commonly used ones. At least, your renters can meet something to cook with before they go shopping for kitchen ingredients and groceries. Some basic ingredients are salt, pepper, garlic, olive oil, onions, butter and so on
Don't forget to provide sanitation equipment for the kitchen. Some of the appliances mentioned above need immediate cleaning when used. So, the best way to keep them intact is to provide some basic cleaning tools. At least, you won't have to be changing your tools or re-paint your cabinet at all times because of spots and stains. Some of these cleaning tools are kitchen towels, cabinet scraper, washing sponge, cabinet cleaner, liquid washing soap, floor mop, vacuum cleaner, and so on.
Is Your Kitchen Good Enough For Vacation Rentals?
Appliances are no doubt essential, but space, usage, and aesthetic appeal are equally necessary. If your rental home is a small cozy home, it will be fine to have small portable appliances. But if it is an upgraded modern apartment, more will be expected of the bells and whistle of your tools.
However, ensure you plan a perfect kitchen for your guests. If you want your guest to have a good experience, keep your kitchen organized and clean. Most importantly, sprinkle it with creativity and originality. Having ample storage is lovely but can be painful if it is not easily accessible. Ensure all appliances are in suitable condition and well arranged.
A proper amount of light and enough space to move around in the kitchen creates a good workflow. So, that should also be in place. Arrange all kitchen tools until you see no space, usage, or accessibility conflicts. Even if it is a small kitchen, ensure the kitchen is spotlessly cleaned, well-organized with plenty of work surface area.
Conclusion
Kitchen tools are a necessity, of course, but worn-out equipment is not only annoying but dangerous. So, provide fewer but quality tools and keep them in tip-top condition. Overall, plan a proper kitchen for your guest with ample kitchen supplies and storage to hold the tools.
Be sure to mention your Perfect Kitchen in your advertisements and description!
Your guests will love you for it!
What more does your vacation rental need to have? Check it out here!